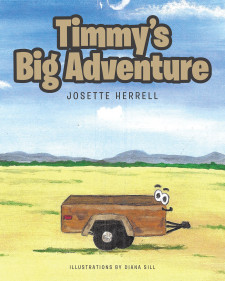 Recent release "Timmy's Big Adventure" from Covenant Books author Josette Herrell brings a fantastic tale about a small brown trailer who dreamt of going on big adventures just like other trailers that all have different jobs to do. Will he be able to?
ALAMOGORDO, N.M., March 2, 2021 (Newswire.com) - Josette Herrell, a writer of family books, has completed her new book, "Timmy's Big Adventure": a wonderful children's story where Timmy the brown trailer was pulled on an adventure across towns, mountains, and cities so far that he almost worried he'd never see home again.
Josette writes, "Timmy was a little brown trailer. His job was hauling trash for the Big Man. He was happy, but one day he heard about other trailers and their jobs. It sounded exciting, and he thought, Someday I'll have a big adventure. One day, the Big Man started loading Timmy, but it wasn't trash. It was boxes, toys, and a bicycle. When he was loaded, he was covered with a blue tarp and hooked up to a big motor home. Was he going on a big adventure? On the highway, he saw all kinds of trailers and places. At the end of the trip, he saw the little girls that used to live by him. Was he going to live here with them? The Big Man took the motor home and left Timmy alone. Just when Timmy thought he would never see the Big Man again, he heard the motor home coming back and they started home. Timmy would always remember his big adventure, but he thought, Home is the very best place."
Published by Covenant Books of Murrells Inlet, South Carolina, Josette Herrell's new book is a brilliant piece of children's literature, full of wonderfully illustrated pages that tell a story reminding readers of how beautiful home is. That even when we are excited to go somewhere far away, home is where one feels the most comfort.
Readers can purchase "Timmy's Big Adventure" at bookstores everywhere, or online at the Apple iTunes Store, Amazon, or Barnes & Noble.
Covenant Books is an international Christian owned and operated publishing house based in Murrells Inlet, South Carolina. Covenant Books specializes in all genres of work which appeal to the Christian market. For additional information or media inquiries, contact Covenant Books at 843-507-8373.
Source: Covenant Books
Share: