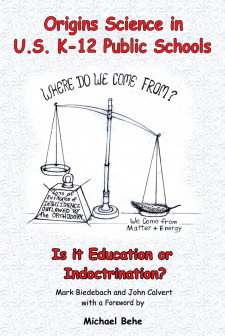 Recent release from Covenant Books: "Origins Science in US K-12 Public Schools: Is it Education or Indoctrination?" Mark Biedebach and John Calvert explains in detail why it amounts to indoctrination that infringes the religious rights of theistic parents and impressionable young children.
NEW YORK, February 24, 2021 (Newswire.com) - Mark Biedebach, a biophysicist who served as a professor of physiology of the Department of Biological Sciences at California State University, Long Beach from 1967 to 2001, and John Calvert, a constitutional lawyer have just published "Origins Science in US K-12 Public Schools: Is it Education or Indoctrination?" According to one five-star review, the book provides "a much-needed fresh perspective on teaching about the origin of the universe, origin of first life, and origin of species in public schools." Specifically, the book explains the First Amendment requirement for an objective teaching of origins science. It then provides a convincing case that public school implementation of Next Generation Science Standards is designed to incrementally, progressively, comprehensively and deceptively influence impressionable young children to embrace a materialistic/atheistic religious worldview, rather than to objectively learn about the competing evidence-based explanations about the cause and nature of life and the universe.
To remedy this unconstitutional endorsement of a nontheistic religious worldview, Biedebach and Calvert recommend an objective teaching of origins science. A true objective teaching is delicate and challenging, but Biedebach and Calvert provide 10 recommendations for the development of an objective curriculum.
This book deserves careful consideration because students deserve objective education, not religious indoctrination.
Mark writes, "A biophysicist and constitutional lawyer address a profound question. Is it OK for our public schools to teach only atheistic answers to ultimate religious questions?
"Where do we come from and what is the nature of life? These are the two biggies implicitly addressed by U.S. K-12 origins science education. The answers form the foundation for the third: How should life be lived ethically and morally? The answers to the third will be significantly affected by how we answer the first two."
The authors show that there are two evidence-based alternatives to the first two.
Biedebach and Calvert write, "We either come from unguided material causes without purpose or we come from material and intelligent causes for a purpose. The materialistic alternative provides the foundation for non-theistic religious answers to questions of ethics and morality, while the teleological alternative supports theistic answers.
"The problem is that modern origins science uses a concealed materialistic orthodoxy that permits only atheistic narratives about the origin of the universe, of life and the diversity of life. Thus, when these materialistic/atheistic explanations are taught by our K-12 public schools, the impressionable kids are only given a one-sided atheistic narrative rather than an objective education about the evidence for and against both views."
Calvert, the lawyer who switched from stock fraud to Constitutional law 20 years
ago, explains how the law and the requirements for historical science actually require the objective rather than the materialistic method for K-12 origins science education.
Published by Covenant Books of Murrells Inlet, South Carolina, Biedebach and Clavert's new book gives a handful of information to Christian educators designed to help them teach the science of origins of religions of other people with respect.
This book poses a question about modern public education of K-12 students in origins science amounting to indoctrination instead of education because of the concealed use of orthodoxy.
Readers can purchase "Origins Science in US K-12 Public Schools" at bookstores everywhere, or online at the Apple iTunes store, Amazon, or Barnes and Noble.
Covenant Books is an international Christian-owned and operated publishing house based in Murrells Inlet, South Carolina. Covenant Books specializes in all genres of work which appeal to the Christian market. For additional information or media inquiries, contact Covenant Books at 843-507-8373.
Source: Covenant Books
Share: